The subject of counteroffers is one that is hotly debated in the recruiting business. Many recruiters feel that they should always be declined. Others feel like it's more complex issue. How would you handle a counteroffer in your search for building technologies jobs? Or in any profession for that matter?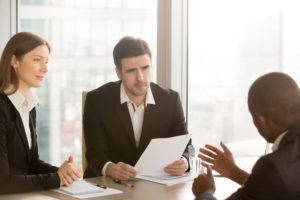 Trusted Advisors
If you've worked with a recruiter, then you know that they take the time to listen, consult, and advise on the best course of action. They ask numerous questions to get to the core of what is really motivating you. So, when the topic comes up about counteroffers, they understand that every situation is unique. A good recruiter will have you evaluate the opportunity and consider the different potential outcomes. Why are you considering a new job opportunity? Why are you considering a counteroffer from your current employer? Is it just the money? Are there other factors?
Evaluating the Risks
Recruiters understand that accepting a counteroffer can be risky. You may accept the offer, only to find that the company let you go a few months later, once they found someone to replace you. They may make promises that they want to keep, yet can't really keep. Change is difficult. Increasing a dollar amount in your salary is much easier than creating lasting change. Your employer may feel manipulated by your wanting to leave and then ultimately staying for more money. They may view you as disloyal. As much as employment is a contract, the relationship is between real people with real emotions and often those win out.
Pros and Cons
Often an executive recruiter will ask you to write out the pros and cons of your current position, and have you write out the pros and cons of your counteroffer. This way you can really see what's working and what's not. And you can think through the different potential outcomes of your actions.
Money or Status? Or Something Else?
More often than not, the decision to leave a job has many more factors than just the amount of your salary. Some of the most common contributing factors are: cultural mismatch, poor leadership, lack of upward mobility, location, schedule, commute . . . and the list goes on. Getting a higher salary is often not the best solution to the problem. However, it's important to consider your options and make an informed decision.
Are you looking for the next great opportunity in your career?
We are always looking for quality candidates and our search assignments change daily. Contact us to learn more about how we can help you in your search for packaging, construction, or building technologies jobs. Or browse our current open opportunities.