Markets within the building technologies sector are seeing some innovative changes. And talk of infrastructure spending is raising hope for companies in commercial construction. Here are some trends to watch now and in the future.
Heating, Ventilation, and Air Conditioning (HVAC)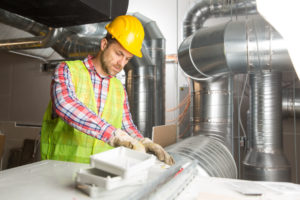 The HVAC sector continues to be impacted by changes in regulations around the types of refrigerants that are used to cool and condition buildings. The Environmental Protection Agency (EPA) has issued guidelines for a process of phasing out R-22 refrigerant. That in addition to their phase-down of hydrofluorocarbons (HFCs), has been prompting innovative change for the HVAC industry. The R-22 refrigerant is being phased out due to the environmental impact so the manufacturers have been moving toward more sustainable options, including efforts toward recovery and reclamation.
Zero Net Energy Building
There's also a growing trend towards "zero net energy" (ZNE) buildings – which essentially means a building's annual consumption of energy roughly equals the amount of renewable energy that is produced on site. This creates a greener product with much less greenhouse gas emitted into the atmosphere. ZNE building is ultimately more cost-effective in the long run, and as awareness grows around this, demand for ZNE technology will likely increase.
Infrastructure
The promise of increased spending on infrastructure by the current administration is raising hopes within the industry. Interest rates continue to stay low, lending is still viable, and stocks are trending up, so business leaders in the industry are cautiously optimistic. This is having an impact on a variety of areas within the construction industry including remodeling, retrofitting, and replacing.
Labor Shortage
All of this is good news, yet there continues to be a labor shortage in commercial construction. Field technicians in many trades continue to be in high demand, as do other positions within construction. Nationally, more attention is being given to the labor shortage, and many are optimistic that the awareness campaign will improve the entry of more young people into the market.
As we see building technologies become more sustainable and lessen their environmental impact, we see an increase in innovation and opportunity. The changing tides in construction, with the promise of increased spending on infrastructure, is helping to buoy the market as more young people begin to enter that labor force.
These are just a few of the trends in building technologies that we will be tracking in the coming months. Stay tuned!
Looking to Hire Building Technologies and Construction Talent?
As one of the leading executive recruiters in the Building Technologies & Construction industries, Delta Diversified knows this unique market. Whether you're looking for an individual sales professional all the way up to an executive business leader, we can help. Contact us today to talk about how we can bring great construction talent to you!