There are some interesting trends taking place in the HVAC and Building Automation industries. Since they specialize in selling perishable products, a growing number of supermarkets and convenience stores are seeking innovative ways to keep their costs down while becoming more sustainable. Thus, contractors are offering up a variety of sustainable technologies in an effort to reduce energy costs. Some of the tools available include: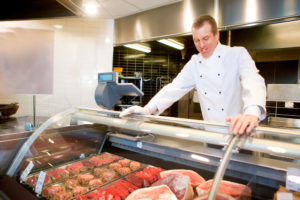 Integrated Control Systems
Supermarkets with automated on-site building controls can provide several benefits. First, the controls ensure that the critical systems of a store are properly maintained at all times. If the outdoor environment fluctuates, then the technology allows for all operations to be optimized and adjusted as needed. They also allow stores to monitor and control their systems at each location which improves efficiency since each location has its own unique environment. Next, integrated controls help to keep refrigeration temperatures steady to reduce food waste. But, one of the most significant advantages of smart store integrated controls is that they allow chain owners and contractors to compare and contrast statistics from different sites to determine which stores are being operated with the most efficiency.
No-Heat doors
Heated cooler and freezer doors are expensive to operate and can cost owners thousands of dollars each year in wasted energy. But, thanks to new insulating materials and heat-reflective glass it's now possible to prevent condensation without the use of heat. This is a real advantage for stores enabling them to use less energy and save money.
ENERGY STAR Systems
More businesses are using Energy Star systems and appliances to achieve a higher level of cost savings and sustainability. The Energy Star program was started by the U.S. Environmental Protection Agency (EPA) to deliver cost-saving energy efficiency solutions to consumers and businesses. The program has continued to evolve and provides "tools and resources help businesses determine cost-effective approaches to managing energy use in their buildings and plants—enabling the private sector to save energy, increase profits, and strengthen their competitiveness."
Refrigerants
As EPA regulations concerning refrigerants continue to become more stringent, HVAC contractors are offering alternatives including water-cooled units, HFO-based refrigerants and CO2 systems. There is some uncertainty surrounding which gas to use because the HVAC contractors don't know which gas the EPA might phase out next. So, CO2 systems are growing in popularity among mainstream grocers because they are energy efficient and don't harm the planet. However, there is a shortage technicians who are qualified to service this type of system.
The current trends in HVAC and Building Automation all seem to have the same goal: to improve the overall operations efficiency and increase profitability.
Looking to Hire Building Technologies and Construction Talent?
As one of the leading executive recruiters in the Building Technologies & Construction industries, Delta Diversified knows this unique market. Whether you're looking for an individual sales professional all the way up to an executive business leader, we can help. Contact us today to talk about how we can bring great construction talent to you!