The hiring process can be fraught with uncertainty and stress if you let it get out of control. It's important to have a process in place that is timely and effective. It's also important to be aware of your own potential biases so you can overcome any of your limitations. Here are some ways to improve your hiring process so you can bring on the best talent in the industry.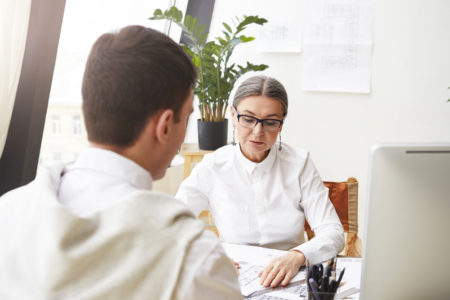 Pay Closer Attention to Your Job Descriptions
It can be easy to underestimate the job description can affect a candidate's perception of a job. It's important to set a positive tone in your description, as well as create as much clarity as possible around the skills and requirements. Avoid using extreme language to describe the position. If the position sounds too demanding from the outset, it can be off-putting to a candidate. But don't forget, you want to really highlight what you have to offer to the candidate in this market. Showcase your company culture and your unique opportunity. Don't just write a laundry list of requirements and job duties. This isn't going to grab candidates' attention.
Be Open-Minded and Open to Self-Reflection
Even the most tolerant people have biases that influence their decision-making. It's also common to have blind-spots when it comes to the hiring process. Maybe you struggle with preparing thoughtful, open-ended questions. To improve your hiring process, you have to look closely at yourself and identify any potential weak spots in your preparation and execution. Once you are aware of your shortcomings you can work with HR, a colleague, or even a recruiter to refine and improve your interviewing and hiring practices so you can land the talent you need to succeed.
Consider Personality, Not Just Skills
Most employers have a very specific list of skills they want in a candidate. If a candidate does not have all of these skills, they write them off. This can be very limiting. What we often forget is that skills can be taught. It is much easier to teach a skill than it is to change a personality. Ultimately, the best hires are the ones who will fit well with the company and the company's other employees. You need talent that is open-minded, friendly, and hard-working. You have to think about what personality fits the job, as well as what personality fits the team.
Hiring is a complex process that takes practice, skills, and finesse. You have to identify the best talent and win them over.
How can we help you?
As one of the leading executive recruiters in the Building Technologies & Construction industries, Delta Diversified knows this unique market. Whether you're looking for an individual sales professional all the way up to an executive business leader, we can help.
Are you a hiring authority in need of talent? Submit a search request today.
Searching for an opportunity in the industry? Contact Delta Diversified today to discuss your career path or browse our open positions.
See Our Latest Jobs Ready to Hire – Contact Me