Working in heating, ventilation, and air conditioning (HVAC) can be an exciting and challenging career. HVAC is evolving to integrate numerous technological advances, and a variety of jobs within the field continue to be in high demand. HVAC is integral to our modern world, but often goes unnoticed until it breaks down or is not available. In a way, it's addicting!! There is a need for HVAC professionals who are trained to install and maintain these complex systems. Here are three reasons to consider a career in HVAC.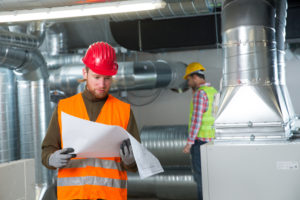 1. Job Security
HVAC is s service-based industry therefore, those jobs cannot be outsourced. So, the field has inherent job security built in. Customers will always need equipment serviced or replace. Currently the HVAC workforce is diminishing; and while demand for talent is high, job security is even stronger.
2. Low Cost of Entry into the Field
Unlike many high paying jobs, you don't need a four-year degree to enter into the field of HVAC. Tech schools and community colleges offer programs that last 1-2 years and are very economical. These schools can be found all over the country, and many are conveniently located for those interested in joining their ranks. Tech school is not the only option however; some companies offer apprenticeship program, and even apprentices working in the field are payed quite well.
3. Income Levels
The HVAC industry has a generous pay range available for trained workers. The average service technician can start around $20 an hour and can be as high as $50 an hour for union workers performing maintenance on HVAC systems. Senior technicians are often making up to $100,000 a year.
4. Great Retirement
Those in HVAC positions can join the local Pipefitters & Steamfitters union which provides support and access to jobs and resources. Union benefits mean that many HVAC mechanics can retire at 55 and pull their full pension from the union. The union is also expansive, so there are always opportunities for work.
Those working in the HVAC field find it rewarding and enjoy the high compensation, job security and retirement options. Many enjoy being of service to the community and like that their skills are valued and in need. The community of HVAC workers is growing smaller since many are not aware of the benefits of this career path. There are ample openings and opportunities to those who are looking for them.
HVAC is still a reliable and integral part of modern infrastructure and demand for installation, service, and repair will continue to grow as systems become even more technologically advanced.
Are you looking for the next great opportunity in your career?
We are always looking for quality candidates and our search assignments change daily. Contact us to learn more about how we can help you in your search for packaging, construction, or building technologies jobs. Or browse our current open opportunities.