HVAC and Building Technologies are the latest industries closing the gap in its use of modern technology. From equipping technicians with smart glasses to using drone technology in the pre-construction process, technology is making both of these industries much more effective than in years past.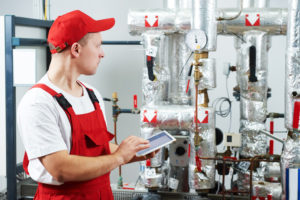 Automated Dispatching Programs & Info Gathering
The days of jotting down part numbers and work orders using a pencil and paper are all but obsolete thanks to cloud-based data computing. Technicians in the field are now able to stay connected and share job site information with their respective home offices while out in the field via the cloud. In addition to cloud-based computing, a growing number of HVAC contractors around the country are instituting automated dispatching in an effort to free themselves from traditional manual dispatching procedures. Some other benefits of using this method of technology include increased profitability, greater efficiency and expanded field tech utilization rates.
Mobile App Software
There are also some HVAC companies that are taking technology a step further and offering up mobile app software to their customers. For instance, one Pennsylvania contractor developed a mobile app for homeowners enabling them to quickly diagnose issues and book service through a cloud-based scheduling system. This has improved customer service as well as streamlined internal processes for the team – giving real time updates to the customer, automating the text responses, and using GPS to show the arrival of the technician.
Google Glass
Wearable technology, like Google Glass, has already been proven useful in both industries as well. For instance, smart glasses provide numerous advantages to field technicians such as allowing service managers to remotely view what a technician is working on at any given time. Service managers are then able to provide assistance and advice when needed to ensure the best troubleshooting possible. The live feed can also be viewed by customers who may have specific questions about a contractor's service. Given the skilled-labor shortage around the country, many contractors continue to seek innovative ways like this to complete jobs with a diminished staff.
Drones
Although drones were first used for military applications, the technology has since expanded to a variety of other uses ranging from disaster management to agriculture. But, drones are also making the HVAC and Building Technology industries much more effective too. They can assist with capturing high-resolution photos of prospective building sites, monitoring progress, and are even being used to help find where to install large commercial rooftop HVAC units.
Looking to Hire Building Technologies and Construction Talent?
As one of the leading executive recruiters in the Building Technologies & Construction industries, Delta Diversified knows this unique market. Whether you're looking for an individual sales professional all the way up to an executive business leader, we can help. Contact us today to talk about how we can bring great construction talent to you!